CYCLIC 608
Coatings & Industry > Corrosion + Ageing > Cyclic & Multifunction Cabinet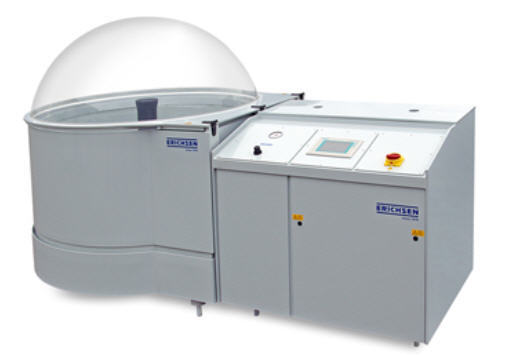 608
Corrosion Testing Apparatus, Model 608-1
Cyclic Tests - Varying Climatic - Conditions - Automotive Standards
The Corrosion Testing Apparatus, Model 608-1 consists of a control cabinet and one test chamber (optional order)

The control cabinet is equipped with SIEMENS Touch Screen for setting the test parameters and preset of the test sequenzes in accordance with VDA and VW specifications as well as in accordance with DIN EN ISO 6270-2 AHT (further test sequences upon request).
An additional channel is available for the individual programming of a cyclic corrosion test. The control and adjustment of the test cycles are realised using a SIEMENS S7-200 PLC.



Standards
Scope of supply
608
ERICHSEN Corrosion Test Instrument for
varying climatic conditions, Model 608
Designed like the manually operated Model 606, the
Corrosion Test Apparatus, Model 608, however, is
equipped with a PLC (programme logic control)
SIEMENS D7 200.
The test cycles as well as the
test parameters are entered using the SIMATIC
touch screen.
Cyclic corrosion tests executed e.g. in
accordance with the specification of VDA, VW or
SWAAT, can be started in a user-friendly manner.
There is the possibility available for the input of a
customised test cycle. Upon request, special tests
can be considered for the selection of the test cycles.
After placing the specimens and the condensation
receptacles in the test chamber and programming the
desired number of test cycles the test takes place
fully automatically.
A circulation pump for mixing the salt solution in the
storage tank is permanently installed in the lower part
of the control unit.
The Models 608/400 l and 608/1000 l are available
either in rotational symmetric or rectangular shape,
whereas the version 608/2000 l can only be supplied
as a rectangular apparatus.
Purpose
Design 1
Design 2
Technical Data
Corrosion Test Instruments, Models 608 400 l 1000 l 2000 l
Capacity of the test chamber / test panels approx. 100 approx. 180 approx. 400
(depending on the shape)
Specimen holders for weathering panels 3 3 3
(18 panels / holder)
Floor load of the test chamber up to approx. 300 kg (special versions on request)
Test temperature range from ambient temperature up to +50 °C
Following connections have to be provided by the user::
Power supply (AC) 230 V / 400 V, 50 Hz (other voltages on request)
Consumption approx. 2000VA approx. 3000VA approx 4000VA
Compressed air connection / pressure 4 - 10 bar
Air consumption 6 Nm³ /h
Water connection / pressure 2 - 8 bar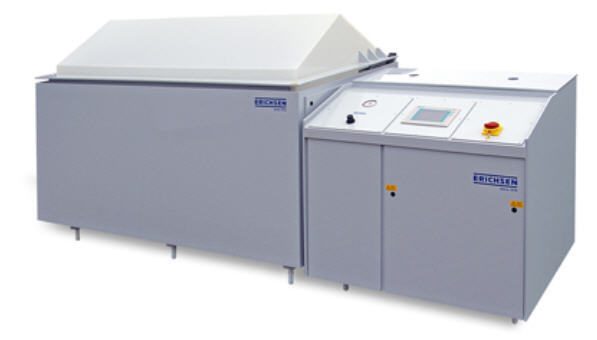 Different chambers are available :