GTEST Thermostatic
Laboratory Product > Climatic Chamber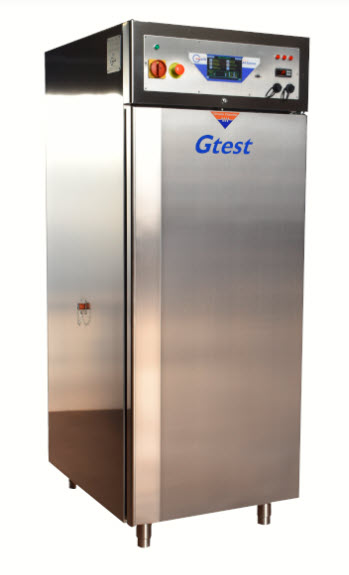 GTEST Thermostatic and Climatic Chamber
models offer different solutions for your testing requirements working with control of temperature and relative humidity. Galli offers GTEST model in 3 versions:
Incubators of great capacity for testing temperature from Amb.Temp. + 5.0°C to + 60.0°C
Ideal for temperature-controlled trials, incubation, maturation, aging, …
Thermostatic Chambers with refrigeration, ideal for testing of temperature from+ 0.0°C to + 60.0°C
When you want to work around or below ambient temperature, here the solution.
Climate Chambers with Temperature and Moisture Control from 20rh% to 96rh%
Ideal for stability test, technological test, shelf life tests, bacterial and cell cultures,
Standard t° range : 0°C to 60°C
Extension up to -25°C is available
Standard Hr range :
from
20% to 96%
PLUS
• AG-System: Microprocessor Control PID Digital, accurate and sensitive. Model GTEST Original Galli

• Instrument ideal for all applications where precise control of temperature and humidity is required

• External steel AISI 304 Scotch Brite finishing

• Adjustable feet for leveling the instrument

• Ecological Thermal Insulation

• Stainless steel AISI 304 internal corrosion with rounded corners

• Inner capacity with 1, 2 or 3 vanes

• Independent doors AISI 304

• Magnetic seals

• Lock and key

• Special System of Distribution Air

• Forced ventilation for better uniformity

• Cooling by refrigerating unit hermetic type

• Environmentally friendly CFC-free gas

• Heating by armored elements stainless

• Automatic system of humidification and dehumidification

• Choice of sterile steam or ultrasonic
Versions AGS Control DAILY:
• Controller Microprocessor PID Digital Dual Display for Temperature Control

• Controller Microprocessor PID control Digital Dual Display for RH%

• Safety Regulator, fuses, pressure switches, lights

• Ideal for continuous operation ° C and RH% fixed
Versions AGS Control TALENT:
• Touch Screen 7 "Wide Screen graph COLORS

• PID control of temperature

• PID control of humidity

• Registration on Line Graphics ° C and RH%

• USB for chart data and alarms daìownload

• Ethernet for connection to PC or LAN

• Safety Regulator, fuses, pressure switches, lights

• Ideal for simple and complex climate thermal cycles
Standard equipment for GTEST:
• N° 01 ° Through Hole, with cap, for introducing probes

• N° 01 tank and pipes for loading and unloading water

• N° 02 keys for opening and closing doors

• N° 01 Instruction Manual

• N° 01 Certificate of Conformity

• N° 01 Certificate of Guarantee



Standard equipment for each compartment:
• N° 03 shelves, removable and adjustable in height