Dry Ice Monitoring
Transportation > Cold Chain Monitoring
Dry ice is the solid form of carbon dioxide.
It is commonly used for temporary refrigeration.
Dry ice surface temperature is -78.5 degrees Celsius.
It is used primarily as a cooling agent,
used as a refrigerant, especially during shipping of perishable products such as meats or ice cream.
Dry ice will play a crucial role in maintaining the correct temperature as the vaccine travels for distribution.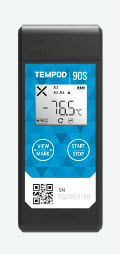 USB connector allows downloading data without reader or cable

Time mark records events requiring special attention

IATA PI970 II compliant, your goods with Tempod inside will not be handled as dangerous goods

RTCA DO-160G compliant allows monitoring in air freight •


GxP regulations compliant





Tempod 90 S Specifications
Type : Single use
Sensor : Temperature: Internal RTD sensor
Memory Capacity : 28.800 readings
Measurement Range : -90°C...70°C
Accuracy :
±0.7°C (-90°C...-30°C)

±0.5°C (-30°C...30°C)

±0.7°C (30°C...70°C)

Resolution : 0.1°C / °F
Start Mode : Manual / Auto
Logging Interval : 1 minute…2 hours
Alarm Range : High and low alarms / 5 alarm ranges
Battery : 3.6V lithium battery
Battery Life : 30 days (logging interval >= 5 mins)
Shelf Life : 24 months
LCD




OK(√), Alarm(x), alarm zone




Running status




Temperature statistics (max, min, avg)




Remaining battery level




Mark history



Connection : USB 2.0 Connector
Automatic Data File : Encrypted PDF report with embedded raw data
Software : TempCentre2 (21 CFR 11 compliant)
Calibration : Factory NIST traceable 3-point calibration
Certifications : CE, RTCA-DO160G, IATA PI970 II
Dimensions : 100mm L x 40mm W x 12mm H
Packaging/ Material : Case / Polycarbonate
APPLICATIONS

Sea / Air Freight monitoring




Distribution / Last-mile delivery monitoring




Dry-ice shipper delivery monitoring




Storage / Freezer monitoring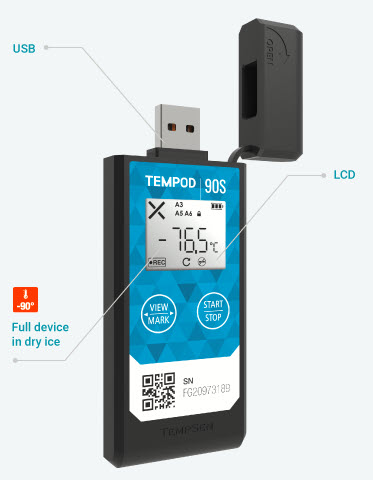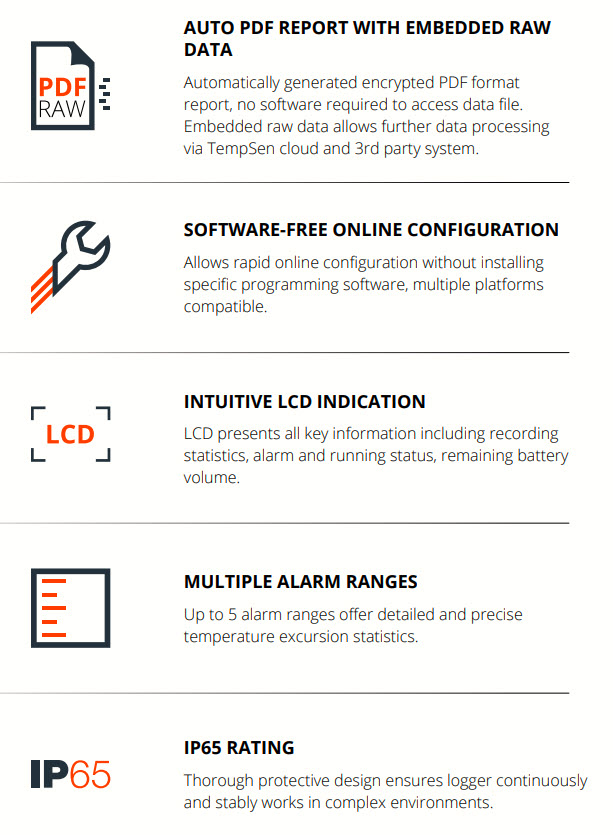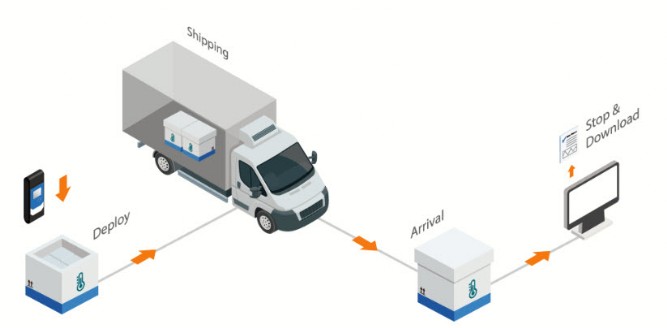 USB PDF Ultra Low Temperature Data Logger with External RTD Probe
2 Models : type multi use
TEMPOD 100X

-100°C...70°C
Accuracy ±0.5°C
TEMPOD 200X

-200°C...70°C
Accuracy ±0.5°C (-100°C…70°C)
FEATURES :
Software-free Configuration

Rapid programming data logger using configuration file created online, no need to install software or driver for device configuration, multiple platforms compatible
Multiple Alarm Zones
Up to 5 alarm ranges offer detailed and precise temperature excursion statistics
Password Protection
Device password protection prevents unauthorized manipulation to data logger
Air Freight Compliance
Complies with IATA PI970 II and RTCA/DO-160G Environmental Conditions and Test Procedures for Airborne Equipment, qualified for air shipment in active status.