Thermal Cryogenic
Laboratory Product > Climatic Chamber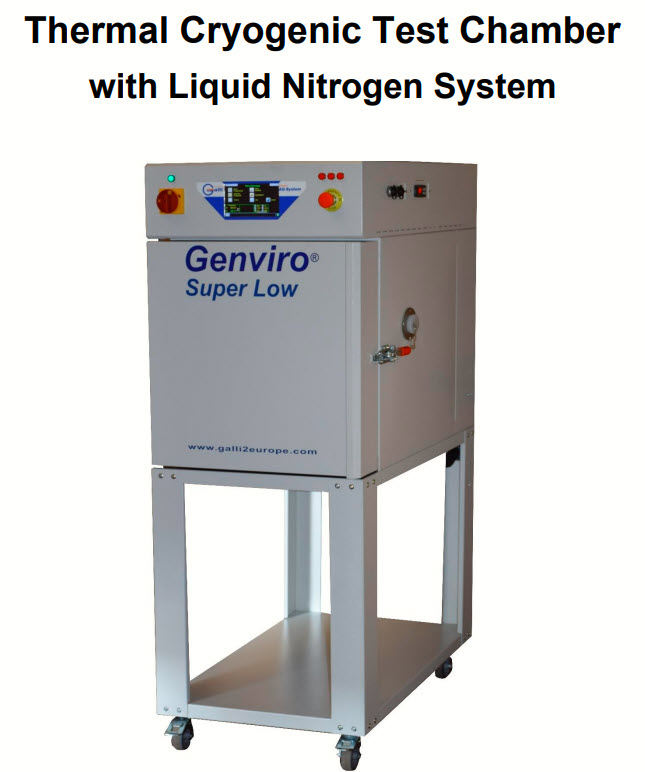 Thermal Cryogenic Test Chamber GENVIRO-060SL
Temperature range from -140°C up to +180°C
GENVIRO-SL Thermal Cryogenic Test Chamber
is an original product, ideal for environmental simulation testing : it provides the perfect solution to your needs to meet the incresingly stringent International and Automotive Standards.
Suitable for automotive, aeronautical, electronic, optical, semiconductor, biological, chemical and pharmaceutical industry.
GENVIRO Climatic Chamber
series is ready to be positioned in your laboratory and to be used.
The focus of F.lli Galli on details, together with an elegant light-grey design, create a classic series suited for every type of interior decor.
All GENVIRO Climatic Chambers are provided with
swivelling wheels and break system
, useful for cleaning and maintenance, that allow an easy placement.
Energy Savings
obtained through a carefully designed/thought thermal insulation; the combination of different advanced materials put together in a sandwich-type layout, allows to emit the least amount of heat in the environment, respecting it.
Interior chamber made of
Stainless Steel AISI 304
with rounded corner, easy to clean.
Slides placed on the lateral inner walls enable the insertion of
shelves
at different heights preventing them from tipping over; the door is mounted on sturdy
adjustable hinges
and complete with a
compression handle
that latches on double
rubber gaskets
.
Moreover, the door is provided with an
anti-fog glass window
for internal observation, made of multiple glazing heated glass.
The internal light
allows the observation of the samples without opening the door;
the lateral through hole
enables the passage of cables and probes to supervise and control your testing device.
The testing inner compartment is conditioned through hot airput into circulation by
long-shaft motor ventilators
made of stainless steel, mounted on silent bearings, in combination with
special inner deflectors
that guarantee an optimal air flow.
Features:
- Inner Chamber made of Stainless Steel AISI 304

- External dimensions: 610x870x1625 mm WxDxH

- Internal dimensions: 410x360x410 mm WxDxH

- Temperature Range: from -140°C to +180°C

- Programmable control system AGSystem TALENT

- 7" Touch-screen graphic color display

- Program function to work with ramps, soaks, thermo-climatic cycles, and repetitions

- Thermal profiles and alarms recording

- USB port for data download

- Ethernet interface for LAN connection

- Glass window for internal observation and internal lights

- Power Supply 230V, 1f, 50Hz
Standard Equipment:
- Power Cable

- Through hole for cables connection on the right side

- CE Certification of Conformity

- Warranty Certificate - Calibration Certificate
Optional:
- Support system with swiveling wheels, 2 with breaks