Fast Oven for Tests on Paint
Laboratory Product > Heating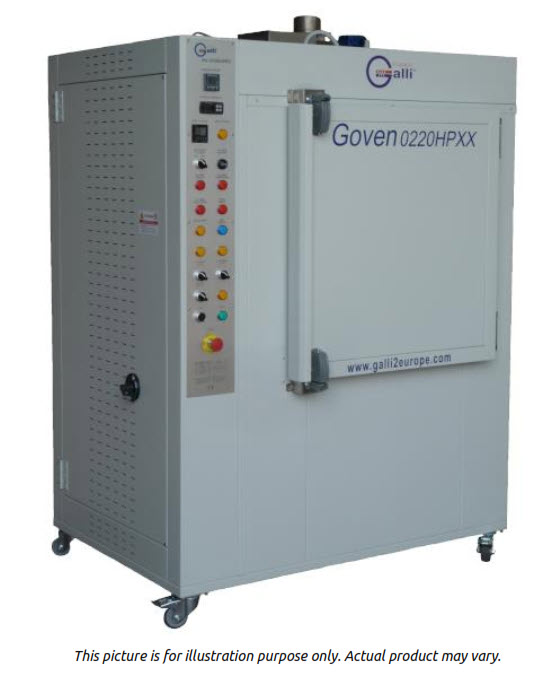 GOVEN0220HP
Fast Precision Oven for Quick Tests
Designed for Tests on Paint

Thermostatic Ovens with Horizontal Forced Air mod. Goven0220HP are specifically designed for tests on varnished specimens.
Goven0220HP Ovens are suitable for a wide range of applications : precise thermostating heating, drying and polymerization, bonding and hardening, polyamide curing, sterilization, burn-in, accelerated ageing tests and treatments in inert atmosphere.
Control System AGSystem PRO
Microprocessor with Digital Display + LCD.

Intuitive Visualization of all functioning parameters. Optimized Control Algorithm with PID Actions. Autotuning Function.

Thermocouple probe, Type K.


"Zero Crossing" Solid State Relays.



PROGRAM Function with Ramps, Soaks and Repetitions.

Temperature Range from A.T. +10°C to +450°C
External Structure : varnished, solvent-free

Internal Chamber: in Stainless Steel AISI 304

Efficient Insulation eco-friendly

Insulated door : With hinges and safety lock

Horizontal Forced Air System

Forced Extraction System : with Pressure Switches

Predisposition for internal rotating device

Continuos Fume Extraction

Washing timer


Swivelling Wheels, 2 with brake



Fuses

for

complete

system

protection




Lockable

Safety

Main

Switch




Integrated

Alarms

Management

System




I

ndependent

Safety

Th

er

m

o

s

t

a

t

,

Cla

s

s

3

.

1



1

Instruction

Manual

N°01

CE

Certificate




1

FGW

Warranty

Certificate




1

Calibration

Certificate




2

Adjustable

and

Extractable

Shelves




1

Through

Hole

diam.

20mm

with

lid