Cupping Test
Coatings & Industry > Mechanical properties > Flexibility and toughness
Model 200
This Erichsen Lacquer and Paint Testing Machine, Model 200, is used for the ERICHSEN CUPPING TEST.
The Model 200 test the elasticity and adhesive quality of lacquers and other protective coatings on metallic supports by means of the Erichsen Cupping Test according to DIN EN ISO 1520, ISO 1520, BS 3900 : Part E4, SIS 18 41 77 and NF T 30-019, on coated sheet metal, with a tensile strenght of 400 N/mm2, up to 1,25 mm thick and from 70-90 mm wide.
Control of the depth by a counter with 0.1 mm accuracy.
The testing machine including one test tool according to BS 3900 : Part E4, DIN EN IS0 1520, ISO 1520, DIN 53 156, SIS 18 41 77 and NF T 30-019 is precision made.
Technical Data
| | | |
| --- | --- | --- |
| Test Tool No. | 27 | 11 |
| Ball punch | 20 mm | 8 mm |
| Sample Width | <= 90 mm | <= 30 mm |
| Sample Thickness | 02-1,25 mm | 0,2-1 mm |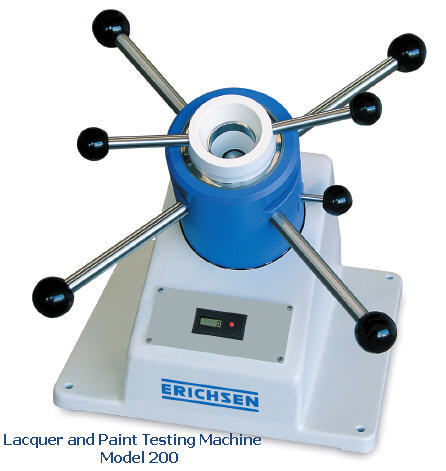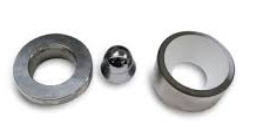 Performance
Erichsen 200
Technical Details
Test Cylinder
Drawing force: max. 30 kN
Specimen width: max. 90 mm
Punch stroke: max. 18 mm
Specimen thickness: max.1.25 mm
Display of cupping depth: digital (accuracy 0.1 mm)
Model 200 is supplied with Test Tool No. 27.
Accessories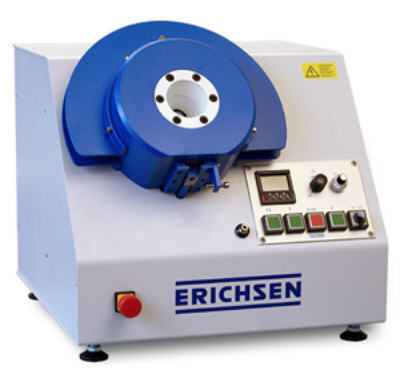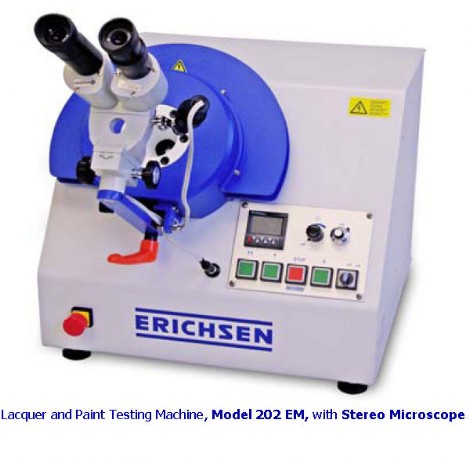 Overview
Lacquer and Paint Testing Machine, Model 202 EM

for testing lacquers and paints of all kinds for elasticity and adhesive quality using the Erichsen Cupping Test in conformity with DIN EN ISO 1520, BS 3900:Part E4, SIS 18 41 77 and NF T 30-019, on sheet metal specimens up to 1.5 mm thick and max. 100 mm width

The Testing Machine is equipped with:
* electromotive drive,
* a laterally opened test head,
* test tool N° 27 acc. to DIN EN ISO 1520,
* electric installation for connecting the illumination of the special microscopes (Ord.-Nos. 0235.01.32 or 0237.01.32),
* cupping speed infinitely variable from 6 mm/min to 60 mm/min or using a reversiblepotentiometer to set permanently to 0.2mm/s.
* a digital display for the acquisition of the ERICHSEN cupping value,
* with integrated preselection counter for setting the maximum cupping value required.

Performance
Accessories
Evaluation
| | | |
| --- | --- | --- |
| Test Tool No. | 27 | 11 |
| Ball punch | 20 mm | 8 mm |
| Sample Width | <= 90 mm | <= 30 mm |
| Sample Thickness | 02-1,25 mm | 0,2-1 mm |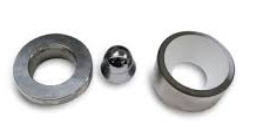 Bead Test Instrument Model 227 measures the residual deformation capacity of coatings by drawing a wall bead into standard 33 mm dia. cups and measuring the bead depth to an accuracy of 0.02 mm.

This enables the quantitative assessment of the technological properties of stamping paints and plastic coatings. The instrument was designed to produce stresses comparable to those which occur in practice and is particularly suited for use in the development of high quality stamping paints.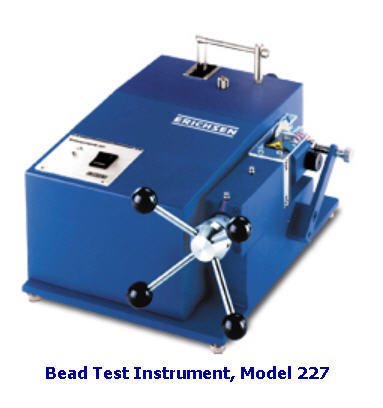 227
Stamped-out metal containers such as shoe cream tins feature a bead rolled into the vertical wall of the container which serves to position the lid. The stamping paint at the crest of this bead is most susceptible to cracking and peeling because the coating in this area is subjected to a higher degree of deformation.
Specimen: standard cups
inside diameter 33 mm.
A varnished standard cup which has been drawn from a round blank with a diameter
of 64 mm is used as a test piece. The cup has an inner diameter of 33 mm.
The bead is formed to a depth where the deformation limit of the stamping paint is reached. During the test a conducting fluid moistens the coated surface of the cup and penetrates even the finest cracks in the coating. Once the conducting fluid meets the metal surface of the cup an appropriate reading indicates the degree of cracking. The method is reliable and reproducible and therefore a convenient means for manufacturers and users to communicate the quality of a stamping paint in numerical terms.

Furthermore the Bead Test Instrument, Model 227, can be used to form a bead into the cylindrical wall of a standard cup until a mechanic destruction of the coating is achieved. This is another possibility to intensify the test.



Specifications