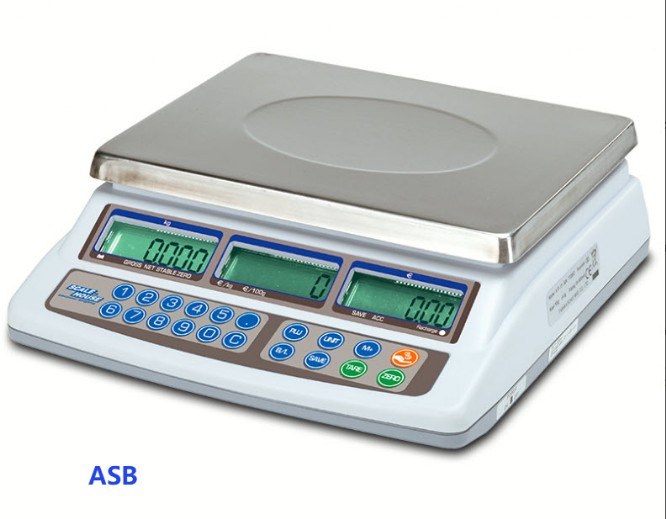 ASB SERIES PRICE COMPUTING "RETAIL" SCALE
ECONOMICAL PRICE COMPUTING SCALE
Compact dual range price computing scales for commercial use.
Connectable to the printer, for amount totalisation function.


TECHNICAL FEATURES
3 backlit LCD displays on operator side and 3 LCD displays on customer side, with 6 digits 20 mm high, for simultaneous indication of weight, price and amount.

Membrane waterproof numeric and functional keypad with 20 keys and acoustic feedback.

Stainless steel 230 x 300 mm plate.

Level and adjustable feet.

Built-in rechargeable battery (about 70 h battery life) and 230 Vac power adapter.

RS232/C port for connection to printer.

Packaging: 410 x 375 x 180 mm size - approximate weight of 5,1 kg.

Master Pack: 2x(410 x 375 x 180) mm size - 2 x approximate weight of 5,1 kg.

Upon request:




- ACCREDIA calibration with issuing of relative certificate;




- 3000e + 3000e dual range CE-M approval.
FUNCTIONS
Price computing:




- change of unit price: €/kg - €/100g;




- entry of unit price;




- amount totalisation (with optional printer);




- calculation of the change;




- 10 PLU memories;

zeroing;

Zero tracking;

Semi-automatic tare;

Digital calibration;

Auto switch-off;

Backlight command;

Low battery warning.
Available versions
Code Max

d

(kg) (g)
2R (g)*
345-ASB30 15/30 5/10 5/10
(*) CE-M divisions are obtainable only with the relative options.
NOTE: ACCREDIA calibration certificate available upon request.
Options only available at time of scale's order
Code Description
345-ECEM2 CE-M single platform legal for trade multi range approval.
345-BTPRSH ABS thermal printer for Scale House products (to be combined with specific cable for each scale). 58 mm paper width;
50 mm roll diameter; power supply through built-in 110-240 Vac power adapter.