New OMK610 Squirrel oven logging system
Coatings & Industry > Oven C° Monitoring
P
aint oven profiling system
consists of:
»
OMK 610 temperature logger
» Paintview Software for setup, download & data export.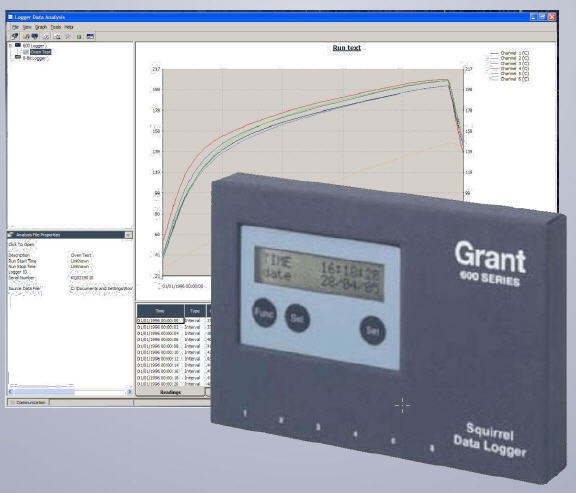 New OMK610 Squirrel oven logging system.

The OQ610 temperature logger is suitable for a wide range of temperature recording applications in industry, research and development. It is available as a standalone temperature logger or as part of a complete system for through process monitoring in the food and paint industries

Features

6 channels for use with a wide range of K or T type thermocouple probes


Battery operated (uses 2 x AA size batteries) and easily portable


Simple 3 button operation via built in display or from PC


Can be configured to automatically start and stop logging on time or temperature levels


Fast sample rates for fast process times: up to 8 samples/second


Can provide automatic cure calculation in through process applications


Non-volatile memory provides up to 260,000 readings of secure data


Time and date reported with each reading


USB On The Go communication port enables direct printout without the need to connect to a PC


Compact and simple to use


High accuracy


Extended battery life


Supply with PaintView software

ACCURACY :
-50 to 500ºC, ±0.5ºC
-200 to 1300ºC, ±1.0ºC
RESOLUTION : 0.1ºC (0.18ºF)
SAMPLING RATE :
Fastest: eight times per second per channel
Slowest: once every two hours per channel
CHANNELS : 6 K or T type thermocouple
TEMPERATURE MEASURING RANGE :
-200÷C to 1300ºC (K type)
-200÷C to 400ºC (T type)
OPERATING ENVIRONMENT :
Temperature range -30 to 65ºC
Humidity 95%
MEMORY : Flash memory of 260,000 readings
MAXIMUM RUNS STORED : 8
COMMUNICATION : USB 1.1 and 2.0 compatible
DISPLAY : Alphanumeric display of 2 x 16 characters shows cure pass/fail, battery status, probes connected, real time readings and communication to printer or PC
POWER SUPPLY :Two AA cells to give 200 hours operation at default settings
DIMENSIONS AND WEIGHT :
Dimensions (lxwxh): 148x95x21mm
Weight: 450g
Probes
The OQ610 logger is s
uitable for use with our wide range of thermocouple sensors. Thermocouples have a quick response time and are suitable for a wide range of applications, from small and delicate, to heavy industrial
Through process data logging system
Standard Thermal Barriers
Thermal barriers are insulated containers designed to keep heat out so that the Squirrel data logger inside remains at a safe operation temperature for a specified duration. Grant offers a wide range of thermal barriers with different time/temperature specifications.
Provides protection to Squirrel data loggers when used in high temperature oven profiling applications (static or conveyor)
A range of standard and customised models with different performance characteristics
Made from stainless steel, for years of use
Barriers available for very high temperature applications - manufactured to order
Suitable for applications in food, powder coating, stove enamelling, ceramic, kiln and furnace
Can be constructed using special phase change material for added protection for very high temperature applications.
New Barrier with Phases Change Heat Sink without Heat Sink
Temp (°C)
100 150 200 250 300 100 150 200 250
Duration (mins) 340 195 130 100 30 140 80 60 50
Size : 245 x 245 x 115 (l x w x h)
Weight : 6Kg 4Kg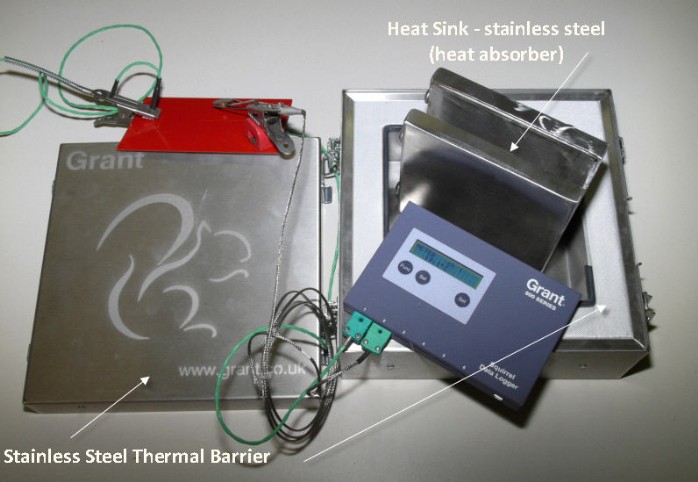 PaintView software

Powerful and easy to use spreadsheet style software for configuring, downloading, displaying and analysing data from your Squirrel data logger.
Upgrade to SquirrelView Plus and with just a few mouse clicks you will quickly be able to view real time charts or historical data.
You can also quickly download the data for use in your favourite spreadsheet, database or analysis program.
Features:
• Storage of user settings on PC
• Temperature profile feature
• Upper and lower thresholds
• Viewing of tabulated data
• Real time metering for test purposes
• Export of data to Excel
• Built in report function


PaintView is an easy-to-use software package designed for exclusive use in the paint and finishing industry.
PaintView also gives you the additional benefits of graphically analysing your historical and on-line data, along with advanced reporting.

Analysis

» Easy analysis for OQ series loggers
» Easy to use Explorer style interface
» Fully configurable data views
» Creation of templates
» Flexibility for customisable reports
» Facility to include text comments with graphs
» Flexible zoom feature including X and Y axis
» Statistics calculator
» Autoscaling of Y axis
» Value readout at cursor position
» High and low level thresholds
» Report facility: prints out graphs, readings,etc
» Tolerance curve
» Oven profile
» Calculated channels
» User notes
» Archives
» File convertor from Paintwise and Squirrelwise
» Product cure calculation
» Append/add datafiles
» Run creator, extracting and joining data by time
Setup
» Setup can be verified before it is sent to the logger
» Converts setup files from previous SquirrelView or PaintView software
» Report options for data presentation» Hide facility allows you to tailor setup interface to your own requirements
» Printer setup information
» Facility to setup templates
Meter Mode

» Displays up to 6 channels
» 3 Plot types: line graphs, gauges & dials
» Autoscaling: X and Y axis
» Value readout: cursor position
» Saves metered data for re-use in other software packages
» Graph printout facility
» Graph can be presented in various styles
Download
» Download straight to graph
» Download directly as a CSV file
Export
» Easy to use export wizard
» Customisable data export for Excel™, Lotus™ or other applications
» Export viewer allows quickview facility of data format
Additional features
» Tips of the day – provides informative shortcuts
» Logger diagnostics » Security features enables password setup
» Communication wizard enables easy setup of USB
» Interactive help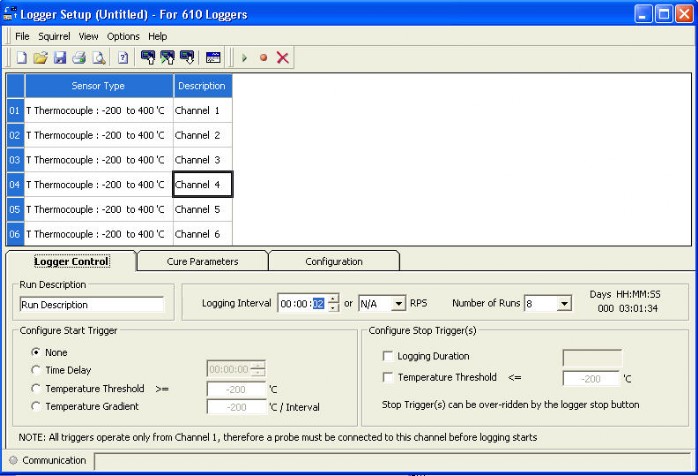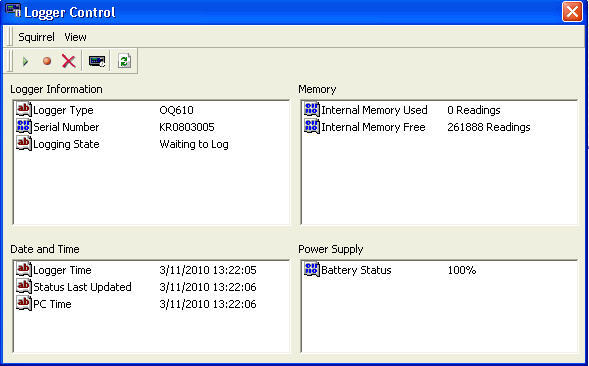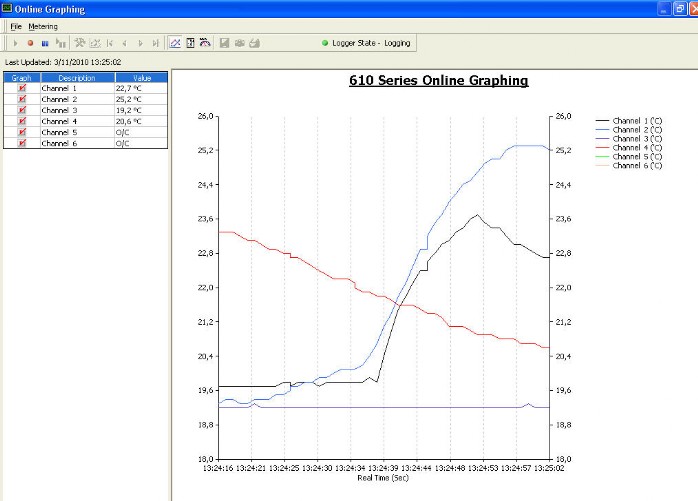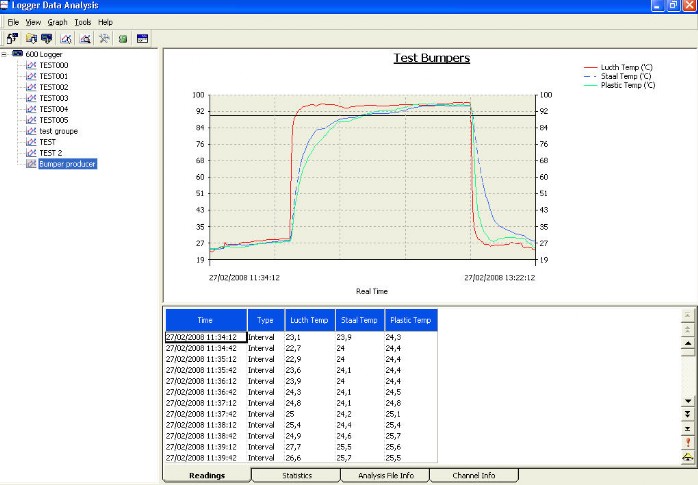 Automatic PaintView REPORT
Probes for use with the OMK610 Oven Logger Kit

A wide range of K-Type temperature probes is available with a choice of 1.5m (4'9"), 3m (9'8") or 6m (19'7") cable lengths.
The OMK610 can be used with a combination of up to 6 probes simultaneously.


Perfect contact between probe and surface




Low mass and optimised shape to avoid influence on temperature of the sample




Extremely strong, highly flexible and easy to clean Teflon® coated cables



All probes have a continuous maximum temperature of 250ºC.