Glass measuring rod
Graphic & Printing Industry > Ink properties > Glass Rulers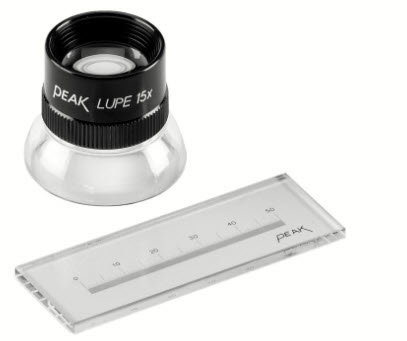 PEAK Glass measuring rod 1972 with 0,1 mm division
Order number: 233-1972-50
Precision glass scale for length measurement with 0.1 mm graduation and lengths from 50 to 400 mm
Measurement of greater distances with measuring magnifiers is possible only to a limited extent due to the length of the scales.
PEAK glass measuring rods are the optimum supplement for quick and simple determination of lengths and distances.
The five lengths of 50 mm, 100 mm, 200 mm, 300 mm and 400 mm are supplied with a 15x reading magnifier (standard 1962 magnifier) in a transport box.
When measuring lengths and distances care must be taken that the scale is parallel to the object to be measured, to prevent measuring errors.
A test report is not included with 1972 glass measuring rods, which are produced in compliance with international standards.
Upon request and for an additional charge the glass measuring rods are supplied with a factory calibration certificate (up to 400 mm) or DAkkS (up to 200 mm).
This will increase the delivery time by approx. 3 weeks.
Technical data for glass scales 1972:
Measuring scale: Graduation = 0.1 mm, inscribed 0 10 20 ... (mm)

The graduation marks and numbers applied to the glass body are razor-sharp

The graduation mark thickness is 0.010 mm

Accuracy of graduation ± (0.001 mm + 8L / 1,000,000) (The dimensions refer to 20°C)

Optical density: 3 ± 0.2

Colour of the structure = black

dpi: 50.000

Coefficient of thermal expansion: 8.5 x 10-6 / 1K

Humidity coefficient 0% per =% RLF

Refractive index = 1.5195

Material = Soda Lime Glass

Good optical transmission - White, slightly greenish appearance

Scale not centred - centred on glass body

Length of glass body = see below

Width of glass body = 25 mm

Thickness of glass body = 2.8 mm
Available in lengths (measuring range of scale):
50 mm = total length 70 mm (± 1mm)

100 mm = total length 120 mm (± 1mm)

200 mm = total length 220 mm (± 1mm)

300 mm = total length 320 mm (± 1mm)

400 mm = total length 420 mm (± 1mm)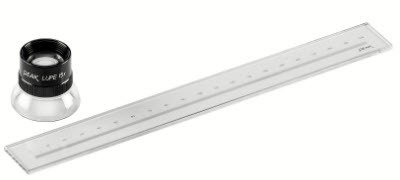 Hereinafter the list for Hereinafter the price list for DAkkS and factory calibration certificates:
Specifications for 1972 series glass measuring rods
Order no. Description
233-1972-50-DAkkS DAkkS log with 11 reference points 200.00 J
233-1972-100-DAkkS DAkkS log with 11 reference points 200.00 J
233-1972-200-DAkkS DAkkS log with 21 reference points 300.00 J
233-1972-300-PP Factory calibration certificate with 31 reference points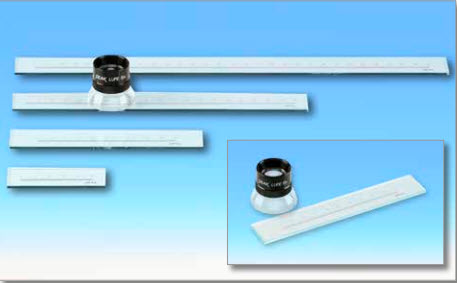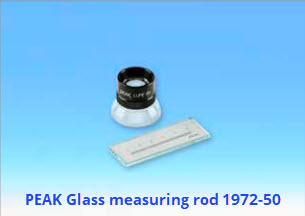 1972-50 Glass measuring rod with measuring length of 50 mm
Magnification factor : 15x
Focusable : No
Field of view, magnifier : 15 mm
Measuring length : 50 mm
Graduation : 0.1 mm
Optical characteristics : Achromatic, distortion free
Dimensions : 80 x 25 x 2.8 mm
Weight : 31 Grams
Transport box : Included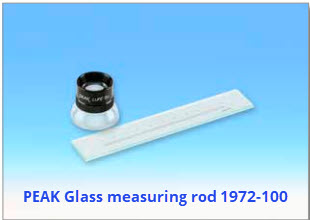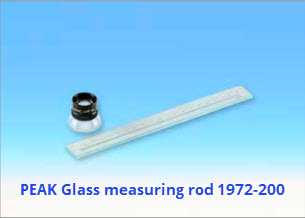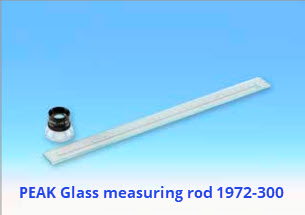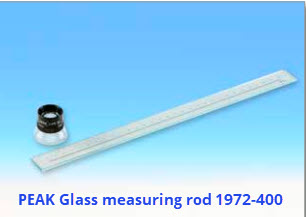 972-100 Glass measuring rod with measuring length of 100 mm
Magnification factor : 15x
Field of view, magnifier : 15 mm
Measuring length : 100 mm
Optical characteristics : Achromatic, distortion free
Dimensions : 120 x 25 x 2.8 mm
Weight : 43 Grams

972-200 Glass measuring rod with measuring length of 200 mm
Magnification factor : 15x
Field of view, magnifier : 15 mm
Measuring length : 200 mm
Optical characteristics : Achromatic, distortion free
Dimensions : 220 x 25 x 2.8 mm
1972-300 Glass measuring rod with measuring length of 300 mm
Magnification factor : 15x
Field of view, magnifier : 15 mm
Measuring length : 300 mm
Optical characteristics : Achromatic, distortion free
Dimensions : 320 x 25 x 2.8 mm
1972-400 Glass measuring rod with measuring length of 400 mm
Magnification factor : 15x
Field of view, magnifier : 15 mm
Measuring length : 400 mm
Optical characteristics : Achromatic, distortion free
Dimensions : 420 x 25 x 2.8 mm
Calibration scale with DAkkS protocol
Calibration scale with 0.1 mm graduation and DAkkS protocol, measuring length 30 mm
If you would like to order a calibration device for the internal creation of a calibration certificate, we can offer you two models:
1 Calibration disc 0.01 mm - graduation 100µm - total length 30 mm
- Order. No. 233-S-1983-DAkkS
- dimensions 35 x 1.28 mm
- Delivery time: approx. 3 - 4 weeks after order

1 Calibration disc 0.01 mm - graduation 10µm - total length 2 mm
- Order. No. 233-S-1983-001-DAkkS
- dimensions 35 x 1.28 mm
- Delivery time: approx. 3 - 4 weeks after order