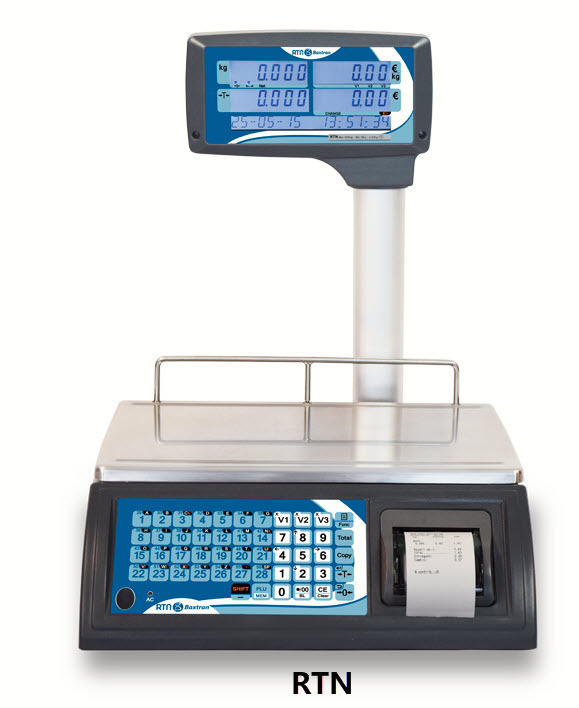 RTN
Retail scale easy and quick use

The RTN series weighing scales are suitable for price computing, general weighing and accumulation operations.
Capacities from 6 kg to 45 kg.

Sale to 3 vendors at time.

Sale and Purchase mode.

99 PLU: PLU Contents: Product name, Product code, Weight/Not weight, Sales Price, Select Tax, Pre-Tare.

1000 sales records and 350 purchase records can save into the memory.

Built in Thermal Printer; easy to load paper and also support continues label paper.

Printouts: PLU Report, Daily sales report, Daily purchase report, Inventory Report, Lack inventory Report, Label, Receipt.

Rechargeable battery provide up to 90 hours of continues use (with out backlight).

Optional connection to connect external platform. > Inventory Control function.

Optional RS232/Bluetooth connection to connect PC. > 28 Sets direct PLU and 99 indirect PLU.

AC Adaptor/Rechargeable battery.

Large 20mm LCD with white LED back light display.

50 mechanical keys.

Weight-price-cost scale.

Ce approval model with verification of series.

Hous in ABS.

Stainless steel pan.

Dimensions of the pan: 365x235 mm.

Column with screen at both sides.

Column in painted aluminium and base in ABS.

Individual screens for the total weight, unit price, total price and tare.

Sum up sales up to 3 sellers.

56 keys of direct price and 99 additional PLU.

Internal rechargeable battery of 6V. It lasts to up to 200 hours (and 12 hours of loading).

Power supply with adaptor AC/DC 240Vac 50Hz.

Temperature of use: -10ºC +40ºC.
Configurable independent menu: to rate calculation (able/disable) and automatic opening of the drawer purse with the transaction (able/disable).
Printer included. Paper of 57 mm of width and 51 mm.




Alphanumerical configurable receipt.




2 headers with four lines and a foot line.




Receipt number identification and series number to cply with the curent regulation of simplified invoice.

Report printing formats:
- Sales per type: PLUs, pieces, kilograms. With total addition and information of the total VAT price.
- It shows line per line all the operations done. It includes subtotal and total (there is no VAT breakdown).
- Printed with VAT breakdown.
- Reports of sales of PLUs:
Normal: transactions done with date and hour.
Summarized: transactions done.
Selectable period of the sales report (whole days) and header.

Printing languages: spanish, french, english, portuguese and italian.