Metaltester MKII
Metal Testing > Hardness Testers > Portable > Digital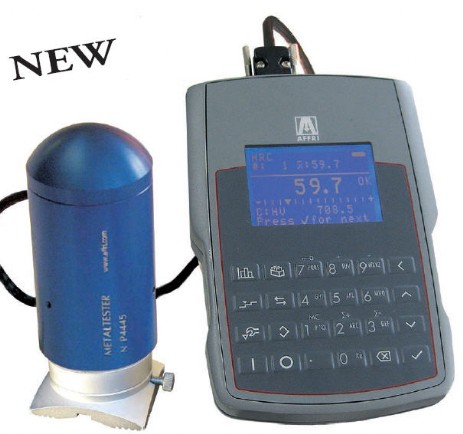 AFFRI Metaltester MKII
Conform with standard ASTM B-724 - DIN 50157
MICROPROCESSOR CONTROLLED DIGITAL DUROMETER
With the METALTESTER portable durometer it is possible to perform quick and precise Rockwell, Brinell and Vickers hardness measurements as well as determine ultimate strength anywhere, inside or outside your production department. METALTESTER can be used to test almost all metals: chromed surfaces, nitrided surfaces, aluminum, brass, copper, bronze, metal wire and hard and soft steel starting from a thickness of 0.08 mm, A diamond indenter ensures precise hardness readings on all surfaces.
Three interchangeable test accessories allow the user to run tests on differently shaped samples or on finished items.
A variety of accessories to facilitate testing on small or oddly shaped items is available upon request.


METALTESTER's limited weight and the compact size make it an extremely efficient durometer to test any surface, any large or unwieldy item or any already assembled product.
The narrow and elongated head is ideal to measure hard to reach surfaces such as the inner parts of castings or of finished housings.
It is extremely easy to use: simply choose the desired hardness scale, put the test probe on the surface and apply a light pressure to start the entire test cycle.
At the end of the test, the instrument lets out a sound signal and the result immediately appears on the wide graphic display. At this point METALTESTER is once again ready for a new measurement. It's that easy!
Data simultaneously shown on the LCD graphic display: detected values in various simultaneous scales, average of the values with automatic updating, battery level, findings according to the tolerance limits expressed both numerically and graphically, programmable test preload and load timer, sound signal to indicate the end of the cycle.
It is also possible to display the temperature and the date, to set data memory up to 3500 values and various files with alphanumerical codes, to display statistics and Gauss diagram.
Data output, to connect a printer or a computer, with an RS232C connection or USB connection upon request.

Model 2102 (Load 50N)
minimum measurable thickness 0,08 mm at 65HRC-840HV
Model 2102/2 (Load 20N)
minimum measurable thickness 0,05 mm at 65HRC-840HV
Working principle Rockwell. Field of application All types of metals

Reading scales

Rockwell HRA (20...92); HRB (26...100); HRC (0...80); HR15N (69...93); HR30T (16...83)


Brinell HB5 (5.. .205); Hb30 (66...884) Knoop (25...97)


Vickers(13...1865)


Tensile Module R (226.. .2898) HZA(0...250)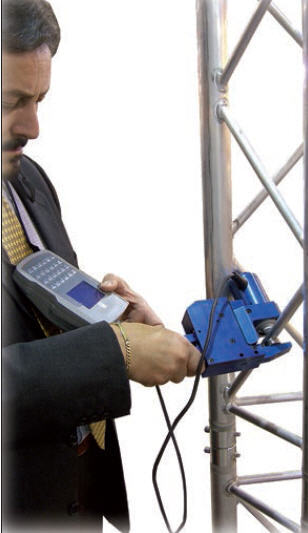 Scale on Request :

Webster B 0/20


Barcol 0/100


Leeb unit



Interchangeable test heads are designed for a wide range of metal application and surfaces.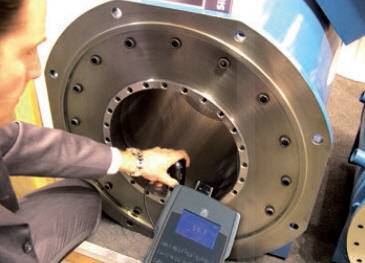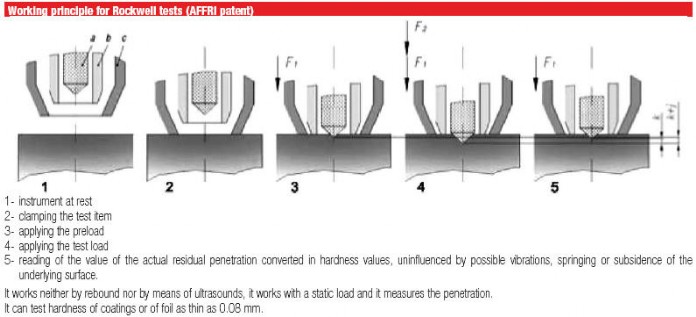 Instrument's resolution 0,1 HRC
Instrument's repeatability ± 0.2 HRC
Types of electronics 16 bit microprocessor, can be interfaced with external units
Data output standard RS232 or USB upon request
Test functions Scale, timer with sound signal, tolerances, correction coefficient, statistics
System functions Calendar, contrast, data processing speed, lighting mode, integrated temperature sensor
(range from -10°C to +45°C, battery level, calibration
LCD graphic display, 128x64 points, backlit and user-friendly graphic interface
Results memory up to 3500 tests
File management 10 available folders
Statistical information Tolerance limits, maximum value. Minimum value, value averages, temperature, date, time.
Test report printing with optional printer (see an example of a complete statistics report on the side)
Printer 13 columns, available upon request
Power supply Rechargeable Ni-Mh batteries. The battery charger comes with the instrument.
Duration 10 hours of continuous use
Energy saving stand-by after 5 minutes the instrument is not used
Overall dimensions Probe: Ø 53x90mm without accessories applied to it;
Electronic panel: 120x180x55; Carrying case: 470x350x150
Weight Probe: 400g, Electronic panel: 600g, Overall with case: 2 Kg