EASY BRINELL-BRIMATIC
Metal Testing > Hardness Testers > ACCESSORIES
Easy Brinell is an Automatic Brinell microscope for indentations reading and for the basic metallographic analysis on metals.

Sturdy, fast, accurate, durable, repeatable and affordable for use in the plant or in laboratory.
The software includes scales for Brinell, STE, Vickers and Knoop indentations at various loads and ball size.
The typical use is for HBW 10/3000 and STE for other small indentations and Vickers, Knoop is required an extra objective probe.
The new design and compact probe in stainless steel assure more comfortable use in every operative condition.
The flat Tabled touch screen compact no keyboard assure a friendly use.
On demand can be supplied the CD for separate computer installation instead of our tablet.
The high resolution camera combined with advanced software includes the basic Metalografic analysis on main metals You save money to buy microscope and dedicate software.


Your advantages with Affri EASY BRINELL

• Brinell result will appear automatically
• Suitable for Brinell indentation trough ball Ø 2.5 / 5 / 10 mm
• Accuracy and repeatability of measurement +/- 0.5%
• Auto light adjustment
• Magnetic foot (on request)
• It can be installed on Windows® PC

It includes :

CCD Camera with electronic microscope probe self light and high resolution image, cable for data transmission. Including palm computer, TFT monitor, touch screen 12", for fast and easy transport, CD and instruction manual.
Windows 7® software.
Conform to standard ASTM E 10; ISO 6506.2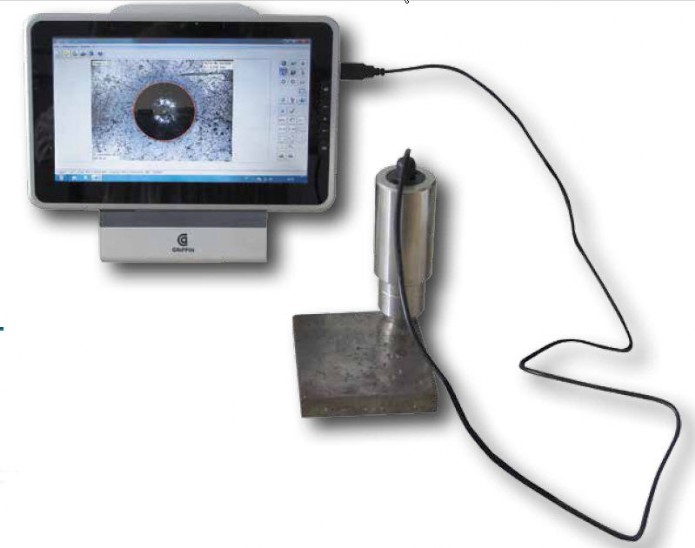 TECHNICAL DATA

Standards ISO6506/ASTM E10
Accuracy depends on surface roughness usually is 1%
Feasible Test Probe A Automatic Brinell reader for indentation of Ø 5 - 10 mm
Probe B Automatic Brinell reader for indentation of Ø 2.5 mm
Programmable for ball Ø 2.5 / 5 / 10 mm
Division of readout 0.1 HB unit
Scales BRINELL, STE, VICKERS, KNOOP, Metallografic Analysis
Computer TABLET minimum configuration Pentium 4, Wind 7, 4 giga HD
Weight of probe 0,5 Kg
Cable 2 meters
Weight of the tablet 0,3 Kg
Light Automatic adjustment L E D
Software English Deutch France Espanish
Store data, create report, print out for data, images USB connection