New Coating Thickness Gauge for Powder Coatings
The PaintChecker mobile LED Blue 591 is specially developed for the measurement of powder coatings before curing on various substrates such as steel, aluminium and ceramics. Cured coatings can also be measured.
The PaintChecker 591 consists of an ergonomic sensor and a controller unit.
A visualization software is included in the scope of supply.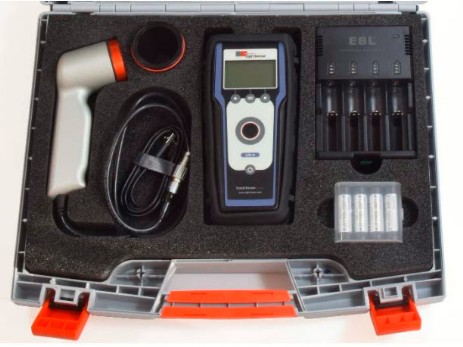 SURFACE TENSION MEASURING TEST PENS

Surface tension is an essential point for adhesion in printing, sticking process on plastic, metallic, and generally all non porous materials
.
The Accurate Test Ink Solutions Range from 28 to 71 Dynes/cm (mN/m):
Non-toxic ASTM D-2578 compatible test inks.
Green Eco ink
26-58 dynes/cm (every dyne level eg:26,27,28,29,30,31) and
Red ink 59-71 dynes/cm (odd dyne levels only eg:59,61,63,65) : only non-toxic dyne inks available
Wireless/RF Data Logger Monitoring System
Senze-Instruments proposes a range of radio temperature recorders, also called communicating sensors, ideal for temperature and relative humidity measurement, with internal or external sensors.
Temperature and Relative Humidity recorders with internal sensor

: very compact, easy to integrate. These connected

temperature data loggers

are very suitable for temperature monitoring of refrigerated enclosures, transportation trucks

Temperature and Relative Humidity

recorders with external probe

: the probe can be positioned at the exact measuring point.

Optimized for measurements at very low or very high temperature (temperature monitoring for the storage of liquid nitrogen, oven temperature monitoring …)
Webmonitor: web application to monitor wireless data loggers
WebMonitor application is available to users who have subscribed to a hosting offer.
It is a website that allows any user to identify and then to access to the measurements of its wireless sensors.
Multi-Cross Cutter 295/II
"REFERENCE CLASS"
6 edges, cutting distance 1-2 and 3 mm, for Grid Cutting Tests acc. to EN ISO, ISO, ASTM, JIS and VDA, incl. magnifying glass, polyamide bristle brush and plastic case
Z-axis stepper motor Profile Projector
Profile Projector (Optical Comparator) is the wise solution to measure the 2.5D dimension of your products.

PV-3000D Series (Erect image)

PV-3000DE Series Digital Optical Comparator the Z-axis uses stepper motor drive, electric focusing, simultaneously increasing the count in the Z-axis grating, ladder components can be measured, greatly increased the performance. In addition, PV-3000DE Series projectors, the lens magnification is complete, customers can measure according to the different objects match different lens.
Features: 5X Lens / Larger vision; electric Z axis, a better mode of operation.
Wireless coating thickness measurement
SmarTest, the new concept of a wireless sensor is designed to assume all tasks of a professional coating thickness gauge.
Thickness values can be displayed at any time on smartphones and tablets.
SmarTest :
Intelligent wireless Bluetooth sensor for non-destructive coating thickness measurement
VISCOMETER B-ONE PLUS
Intuitive and powerful, the new B-ONE PLUS will surprise you with its extended measuring range in LR version or with its optional
temperature sensor.
+ 7'' Touch Screen.
+ Easy attachment of your spindle.
+ Available in standard and high sensitivity versions.
+ Data memorization and USB transfer
Farnsworth-Munsell Dichotomous D-15 Test
This fast, affordable test is used for evaluating an individual's aptitude for discerning color variations.
Easily Evaluate Color Vision Capabilities
Everyone perceives color differently.
But there are ways to ensure that everyone sees color they way you need them to in color-critical applications.
The Munsell Color Order System is an accepted method, worldwide, for precise color specification that has been in use for more than 40 years.
The ideal tool for evaluating color vision is the Farnsworth-Munsell 100 Hue Test, but for organizations that simply need to evaluate color discrimination quickly, the Farnsworth-Munsell Dichotomous D-15 Test may be the answer.
T
his abridged version of the FM 100 Hue Test is designed to allow for a quick evaluation to see if an individual has an aptitude to seeing color in a normal way.
The test consists of a reference cap and 15 removable chips of incremental hue variation.