Control the temperature of your climatic chamber, your fridges, your vaccine storage freezers.
The
VFC2000
is a low-cost vaccine temperature monitoring system, recording temperatures as low as
-100 °C.
Includes ISO17025 accredited calibration certificate.
Capable of measuring and recording temperatures as low as -100 °C, the MadgeTech VFC2000 comes with all the tools needed to ensure vaccine distribution and storage plans are operating in compliance with CDC and VFC regulations.
A simple solution for continuous vaccine temperature monitoring, the VFC2000 displays current, minimum, and maximum readings as well as a battery level indicator. Equipped with an LED indicator, the VFC2000 reminds users to conduct the required 24-hour temperature check.
If temperatures fluctuate out-of-range, the VFC2000 will trigger an audio and visual alert.
PARTS NUMBER :
VFC2000 (with Glycol Bottle 30ml) 269-902238-00
VFC2000 (No Glycol Bottle) 269- 902311-00
Benefits & Features
• Continuous Real-Time Monitoring: Get current, max, min and average readings on the spot with the large, easy-to-read display
• Low Temperature Monitoring: Measure temperatures as low as -100 °C
• Audible and Visual Alerts: Instantly notify staff when thresholds are in danger
• LED Indicators: Reminds users to conduct the required 24-hour temperature check
• Calibration Certificate Included: Annual or biennial calibration option
• Simple Set-Up and Operation: Any user can set-up and operate in minutes
• Easy Reporting: Satisfies all CDC and VFC requirements using the free MadgeTech 4 Software
• Optional Equipment: 30 ml glycol bottle buffer also available
SPECIFICATIONS GENERAL
Memory 16,128 readings (all channels enabled)
Reading Rate 1 reading every second up to 1 reading every 24 hours
Cold Junction CompensationAutomatic based on internal channel
Battery Life 3 years typical at 1 minute reading rate
Dimensions 76.2 mm x 88.9 mm x 24.1 mm - Data logger only
Operating Environment -20 °C to +60 °C , 0 %RH to 95 %RH non-condensing
Required Interface Package USB to Mini USB Cable
SPECIFICATIONS TEMPERATURE
Internal Channel Temperature Sensor Semiconductor
Internal Channel Temperature Range -20 °C to 60 °C
Internal Channel Temperature Resolution 0.01 °C
Internal Channel Temperature Calibrated Accuracy ±0.5 °C (0 °C to +50 °C)
Remote Channel Temperature Sensor Type K Thermocouple (Included)
Remote Channel (Thermocouple) Temperature Range -100 °C to +80 °C
Remote Channel (Glycol Bottle) Temperature Range -50 °C to +80 °C
Remote Channel Temperature Resolution 0.1 °C
Remote Channel Temperature Calibrated
Accuracy ±0.5 °C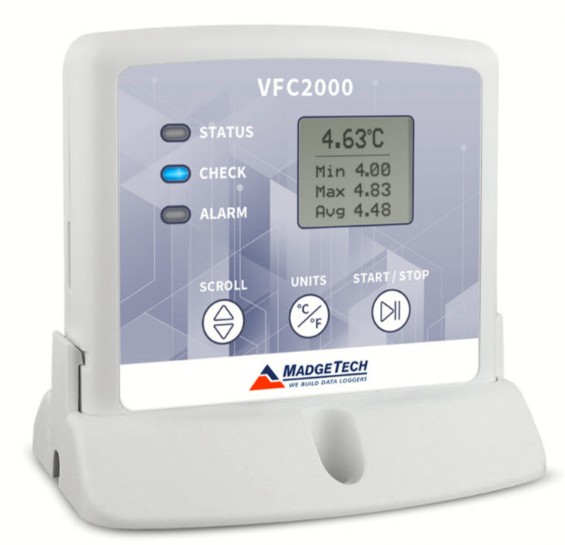 Ear measuring instrument, Measuring of Deep-Drawn Cups, for cups of 15 – 50 mm diameter, max. 100 mm cup height
The Model 126 Plus ear measuring instrument consists of a turntable and a vertical gauge head with a roller.
By a jaw chuck, the cup is centered and fixed.
The gauge head can be positioned to different cups heights and diameters. While revolving around its own axis, the gauge head is measuring the shape of the cup's edge.
This waveform of the cup's edge is called earring.
Purpose and Application:
The Ear Measuring Instrument, Model 126 Plus, is designed for the axial measurement of deep-drawn cups and raw cans.
Typical standards are DIN EN 1669 and ISO 11531.
All measurement results are displayed on a screen.
Results can be archived as files.
Sheet metal anisotropy and deep drawing parameters will result in different earring values.
The detailed determination of parameters discloses tool wear and the quality of the deep-drawing material used.
Test principle:
The operator starts the measurement process by PC or directly at the device.
Pneumatically activated, the gauge head will move towards the cup.
The turntable will rotate by 360°.
After completion, the measurement head will move to idle position.
This facilitates a rapid cup exchange.
Due to its flexible concept this instrument is also applicable for all similar tasks.
Operation software is included. A PC is to be supplied by the customer.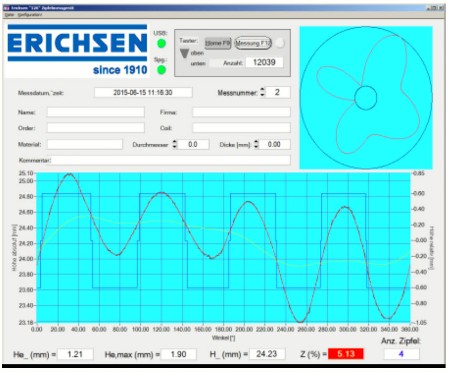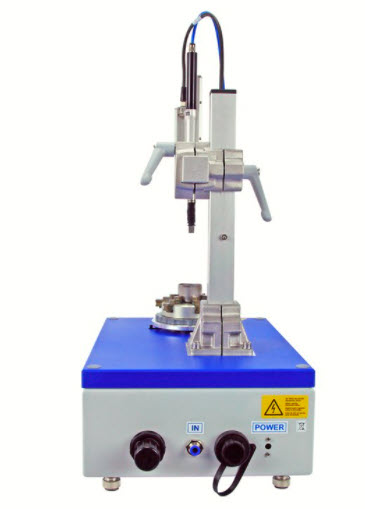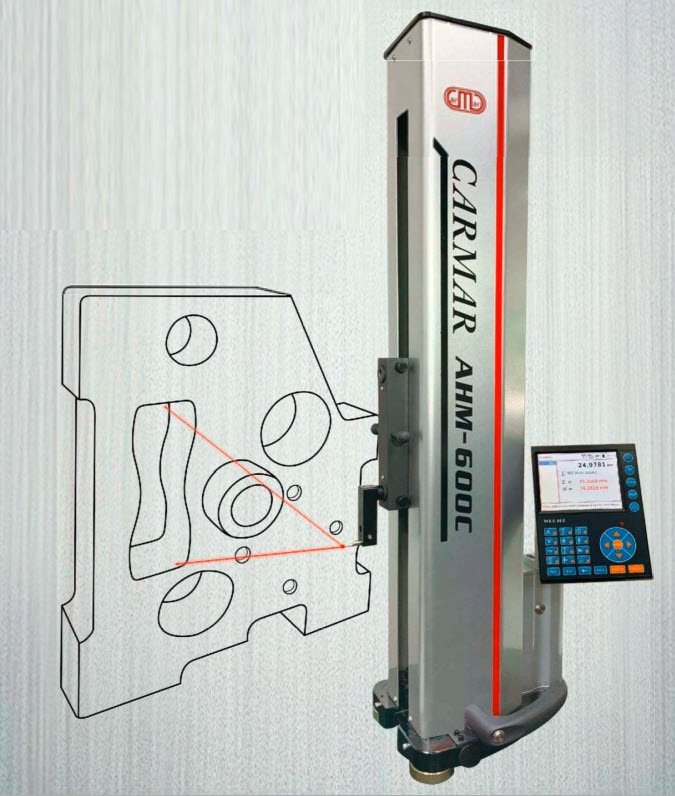 Carmar Auto Height Measuring Instrument is a standing
digital con-coordinate measuring machine based on
precision machinery, modern sensor technique and
electronic technology. lt is widely used in precision
machinery, hardware, p
lastic, etc.
lt can be used to measure the distance between two
planes, depth of hale, groove wrdtb, and diameter, center
distance, maximum and minimum value of hale and
groove.
ln addition, when conhgured with electronic
probe, it is possible to measure verticality
Model AHM-450C AHM-600C
Effective measuring range 450 mm 600 mm
Max. measuring height (mm 770 (change probe's direction) 920 (change probe's direction)
Accuracy (μm) 2+L/500
Verticality of front (um) 6 8
(after e-probe is amended)
Repeatability :
plane: 1.0μm. curve: 2.0μm
Speed recommended(mm/s) 15
Max. electrical speed(mm/s) 25
Max. Manual speed (mm/s) 400
Power supply 12V rechargeable battery pack
Air supplyair pressure ≧0.4Mpa, flow≧30/min
Temperature 10-40°C
Weight(kgs) 36 40
Total height (mm) 900 1050
Carmar Auto Height Measuring Instrument
the distance between two planes,




depth of hole,




groove width, and diameter,




center distance,




maximum and minimum value of hole and groove.



In addition, when configured with electronic probe, it is possible to measure verticality.
Features:
1. Outstanding accuracy performance, 2+L/500μm, Repeatability in plane: 1.0μm
2. One-touch functions allow multiple metrology measurements.
3. Pneumatic floatation in pedestal makes it easy to measure.
4. Granite Pneumatic floatation mechanical structure, high accuracy and small deformation at temperature difference.
5. Auto measuring- high efficiency, and high stability and reliability.
6. Verticality measuring is available for option.
7. Output data to RS232 allowed.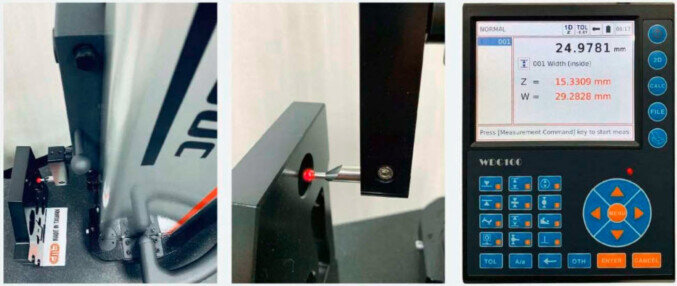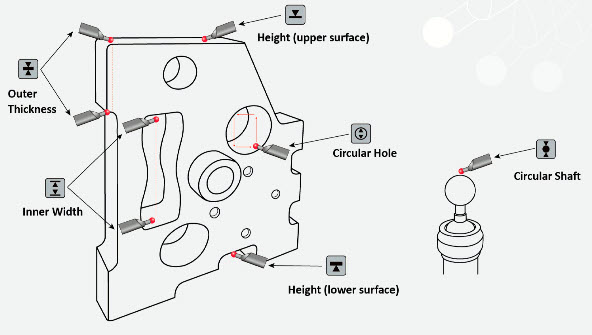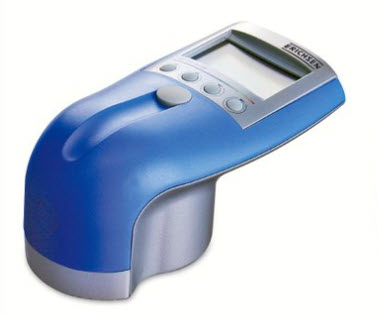 Spectrophotometer, precise colour representation using numerical values, 45° geometry
Colour and glossiness are what characterize the appearance of an object.
Two samples of the same colour but with different glosses do not visually look the same: the glossy surface is perceived as darker and more saturated.
Both of these effects must be well controlled in order to achieve a consistent appearance.
In comparison with the colour meters from other suppliers, the SPEKTROMASTER measures colour and gloss at the same time!
The reason for any deviation can be clearly determined in any situation.
For color measurement, there have been two different methods established, each specifically preferred by the users due to the concerning desired application:
45°/0°
For measurements due to the allusion to a visually valued impression.
Also for a lot of Automotive relevant applications as well as oftentimes for measurements within the final inspection.
8°/d
(Sphere acc. to Ullbricht) For color matching/ recipe matters, pigment testing, measure- ments of color alternation after weathering exposure.
Generally also for reception control.
The SPEKTROMASTER 565
is available in two versions, each attached with one of the two measuring geometries.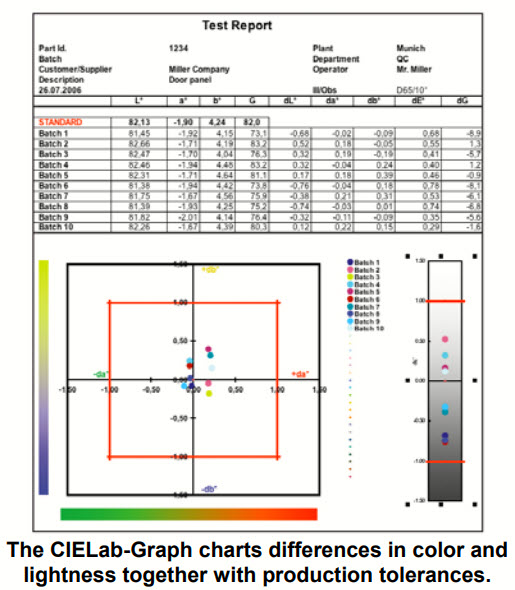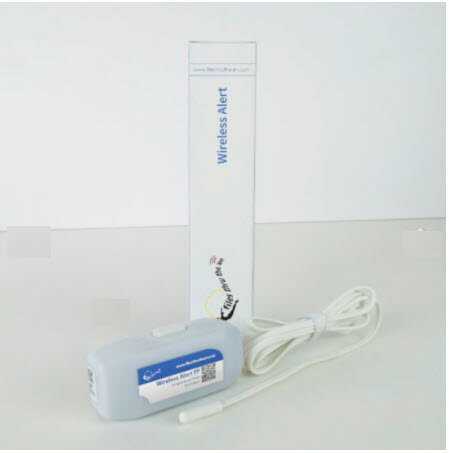 Wireless Alert TP Temperature Alert System
Wireless Alert TP is a battery-powered temperature sensor that sends a warning email if a user-set level is reached.
Simply select your temperature limits, add an email address and connect to any Wi-Fi network using the Wireless Alert mobile app.
-40°C to 125°C temperature probe with 1.5m cable

User-configurable high and low temperature limits

Sends email alerts and scheduled status reports

Flashing alert indicator

Wi-Fi connected

Simple to set up using the free mobile app

Two years' battery life (dependent upon usage scenario)

Batteries included

No ongoing subscription fees

Includes sticky pad for wall mounting

The sensor overall cable width Is 3.65mm, height is 1.65mm
To control in a very economical way your fridges, freezers, warehouses, stores, offices, labs, buildings ...
The Wireless Alert TP can be set up to monitor temperature limits in a variety of applications.
High and low temperature limits are user-configurable between -40 and 125 °C.
The device will trigger a notification email, sent to a user-selected address, if the temperature limits are breached and when the temperature returns to normal. I
n addition to this, the device can send a scheduled summary email detailing minimum, maximum and average temperature, as well as battery level, number of alerts, and total time spent in alert.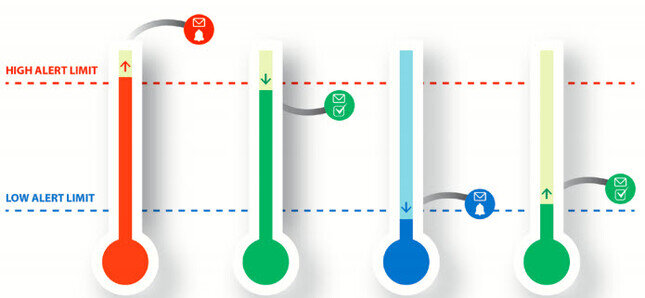 OTHER MODELS AVAILABLE :
Temperature & Humidity


Door Contact




Leak Detection (monitors a surface for liquid)




Pipe Temperature Sensor




Contact Monitor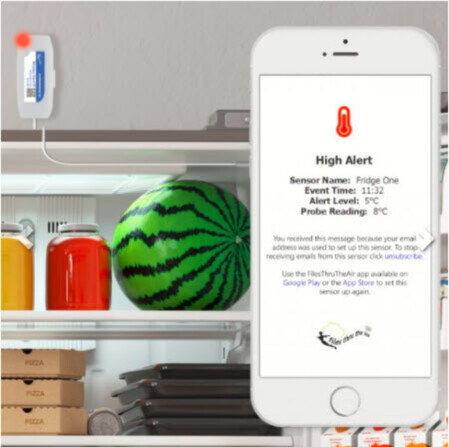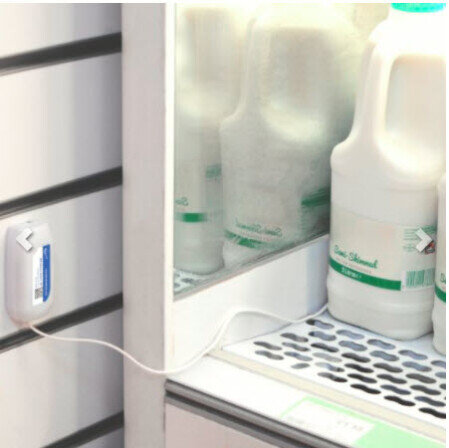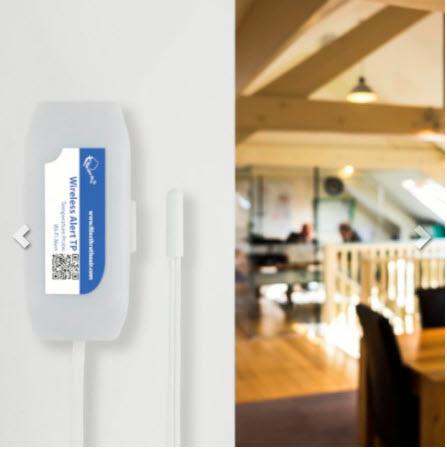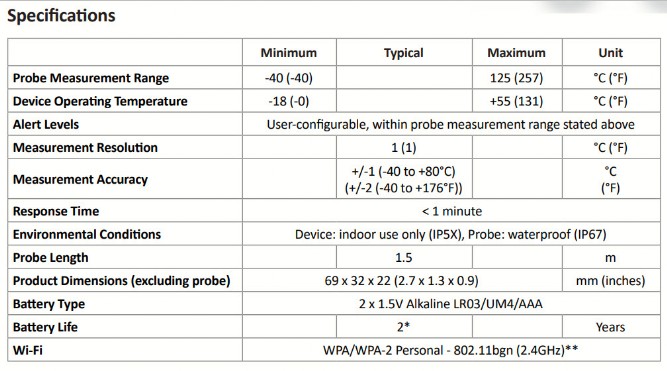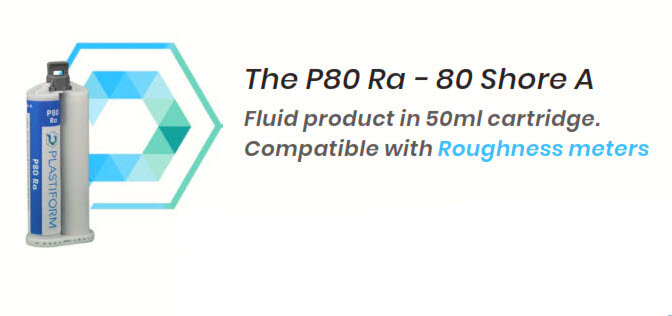 One plastiform have the technical ability to perform indirect roughness Ra controls.
The P80 Ra, as its name suggests, is a product capable of copying the roughness of a surface (which is sometimes not accessible for measuring instruments) and transcribing it identically on the imprint.
When the Ra of the surface to be inspected is greater than or equal to 0.4 µm, the roughness can be measured directly on the impression using a roughness meter, and the result is faithful to the original.
For a lower roughness, the inspection of the impression can be done with a laser metrology instrument, or a non contact roughness tester.
Methodology
Before making the impression, it is essential to clean the part thoroughly with the degreaser DN1 in order not to distort the roughness control.
P80 is a pasty product that will not leak, so you can apply it to any type of surface.
In addition, its polymerization time is 6 to 8 minutes, which will allow you to work the surface of the impression in order to facilitate roughness control.
For example, we recommend roughness meter users to press the impression against the surface to be inspected with a flat object. This way, you will obtain a polymerized impression that is easy to positionnate.
Once the plastiform has cured, allow it 20 to 30 minutes before starting the roughness measurement, this will allow the product to reach its final hardness of 80 Shore A.
This hardness is essential for accurate measurement.