Model 616
Coatings & Industry > Corrosion + Ageing > Cyclic & Multifunction Cabinet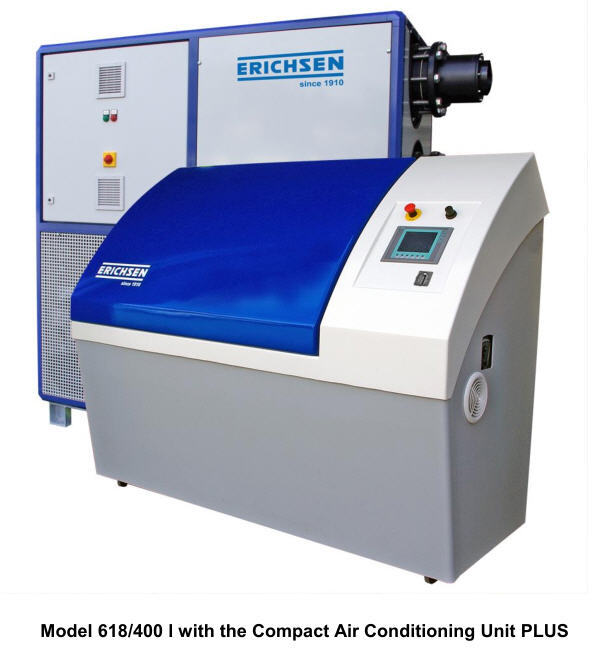 Features 2
Corrosion Testing Apparatus, Model 618
Testing Apparatus
to carry out tests in
altering climates as well as
various salt spray and
condensation water tests
Corrosion chamber
inclusive interface for
connecting an
Air Conditioning Unit
In connection with preparatory treatment techniques
and new materials, coating systems have achieved a
high technical level. In addition, growing working
requirements and environmental aspects are leading
to further improvements of the coating systems.
Therefore corrosion tests for quick quality monitoring
and examination of weakest points are now as before
indispensable.
All corrosion testing instruments of the 618 series are
"Made in Germany". The test chambers are made of
special resistant glass fibre reinforced plastic and are
suitable for low-temperature cycles (down to -40 °C)
and dry heat (up to +70 °C).
The salt spray cabinets are opened pneumatically,
and therefore both hands can be used to handle the
test samples. The ergonomic design of the combined
cabinet/chest shaped instrument enables a very user-
friendly placing in of the test samples.
Different sample holder are available as accessories.
All relevant test parameters are entered and read
using a "Full Color Touch Panel" with multilingual
menu navigation.
By simply touching the display the required functions
can be initiated. The graphics display indicates the
set and the actual value, shows graphically the
course of the last 72 hours.
Via touch-screen operation the user can store up to
40 main programmes, which can each consist of 50
individual steps. Therefore tests in varying climatic
condition with differing specifications from the
automotive standards can be pre-programmed.
Furthermore, the basic instrument is equipped with a
humidity regulation function, which allows the
regulation during tests from ambient conditions up to
95 % relative humidity.
The actual temperature as
well as the air humidity are displayed both graphically
and numerically.
The 618 series are equipped with a control unit for
the humidity for tests from ambient conditions up to
95% (+/-5%) relative humidity and up to a mximum
temperature of 50 °C. During salt spray tests the
humidity sensor removed pneumatically from the test
chamber.
Features 1
Features 3
HR regulation
Standards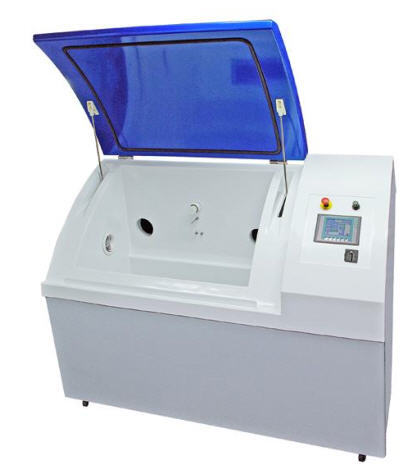 618 Chamber
Three different models are available :
Corrosion Testing Instrument,

Model 618, with 400 l cabinet volume,

incl. 6 specimen holder for weathering

panels




Corrosion Testing Instrument,

Model 618, with 1000 l cabinet volume,

incl. 8 specimen holder for weathering

panels




Corrosion Testing Instrument,

Model 618, with 2000 l cabinet volume,

incl. 16 specimen holder for weathering

panels
Air Condition Unit
Scope of supply
Accessories 1
Accessories 2